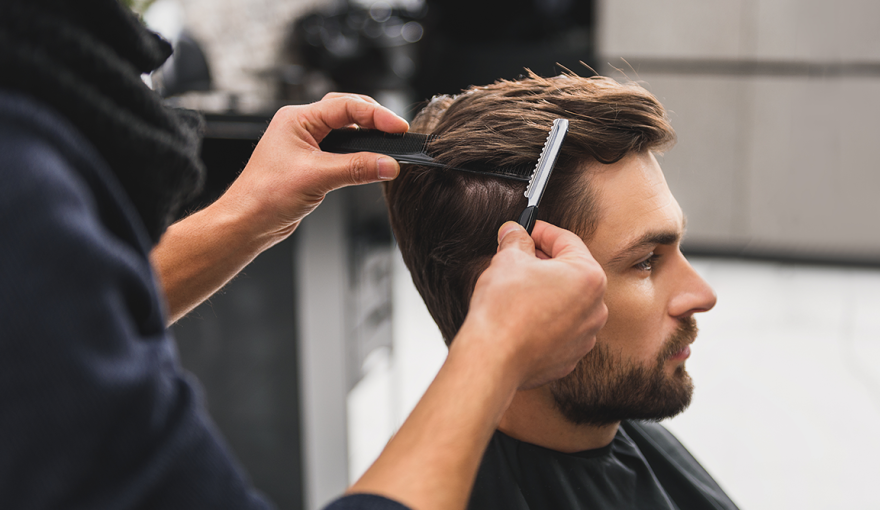 No shave hair transplant is a hair transplant method that is recently having increasing demand from those who would like to have a hair transplant. Normally, in hair transplant treatments, the persons' hair is cut very short before the operation. Those who would like to wear their hair at 20-25 centimeters may not want their hair to be shaved. Moreover, some people who really want to have a hair transplant give it up just because of this reason. In the unshaven hair transplant method, there is no need for the patients' hair to be cut down. Thus, the patients are not left without hair until it starts to grow, and this makes patients happy.
How is Unshaven Hair Transplant Operation Done?
No shave hair transplantation operation is performed the same way as the other hair transplant methods. FUE hair transplant technique is used in this method as well. No cuts are made to the scalp. The operation is carried out with special medical tools and since the patients are under the influence of local anesthetics, they do not feel any pain or aching during the process.
Firstly, a donor area in the patient's body is determined in this hair transplant operation. This donor area can be the nape, beard, or chest area. Later, these grafts which are taken from the donor area are transplanted to the area where baldness is present. The biggest difference this hair transplant method has from others is that the patients' heads are not completely shaved prior to the operation. Yet, sometimes this method can also be applied by shaving the patient's hair in a few small regions that would be unnoticeable when looked at.
This method is applied in only hair transplants with 1000 to 1500 grafts and the hair strands that are cut do not offend the eye. In addition, if the patients wear their hair long, they can use their uncut hair to camouflage the areas that are cut. In this way, the donor area is camouflaged.
Following the hair transplant operation, the patients can go back to their homes and normal lives the same day. After the doctors give the necessary care advice to the patients, the patients are discharged. If the patients follow the doctor advice, they can speed up the healing process.
Unshaven hair transplant
Unshaven hair transplant is a revolutionary procedure that has gained popularity among men and women seeking to restore their hair without the need to cut it short before the operation. One clinic that offers this innovative technique is Konuk Clinic in Istanbul, Turkey. Konuk Clinic is known for providing a range of services, including hair transplant, plastic surgery, and dental treatments, all carried out by specialist doctors. Their website provides contact information for those interested in scheduling an appointment.
The unshaven hair transplant procedure has brought joy to many individuals who were previously hesitant about undergoing a hair transplant due to concerns about their appearance during the recovery period. With this method, patients can maintain their long hair while still benefiting from the transplantation process. By eliminating the need for a short haircut, unshaven hair transplant offers a discreet and convenient solution for those looking to address hair loss.
For those considering unshaven hair transplant in Turkey, it is important to note that the average cost ranges from $1696 to $2986. This price may vary depending on factors such as the extent of the procedure and additional services included in the package. Some clinics may offer consultations with doctors and blood tests as part of their package.
Overall, unshaven hair transplant is a cutting-edge technique that provides individuals with a convenient and natural-looking solution to hair loss. With clinics like Konuk Clinic in Istanbul offering this procedure, patients can now undergo a hair transplant without compromising their desired hairstyle. Turkey has become a popular destination for this treatment due to its affordable prices and high-quality medical facilities.
Why should I choose the Konuk Clinic?
We assist you from the airport to the hotel, with our disinfected vehicles for their safety and comfort. We have an interpreter team with us so that our patients do not experience any communication problems.
We will assist you with your in-person consultation with our doctors at Konuk Clinic. During the consultation, our medical team will conduct the necessary medical analysis to determine whether you are suitable for the operation.
After the completion of your surgery process, you are ready to leave the Konuk Clinic. We will assist you to your arranged 5-star hotel to rest after the operation.
According to your doctor's recommendation, our team will assist you to the Konuk Clinic for your doctor to check up on you and your results. Then we will assist you to the airport with your new look!