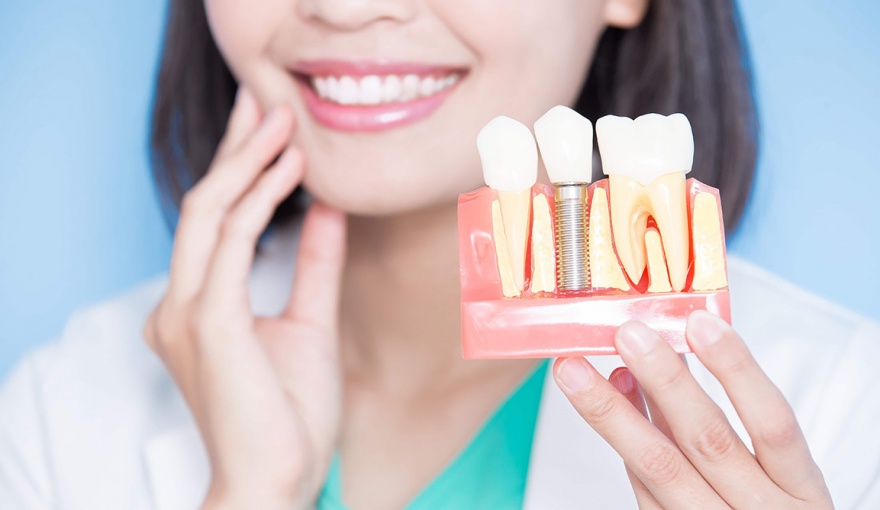 Missing teeth cause both health and cosmetic problems. Dental implant treatment is the best and most viable solution for a missing tooth. It is a long-term, natural-looking solution for replacing missing teeth. Implant treatment has been developed as an alternative to the traditionally used bridge and prosthesis. A dental implant is a titanium screw placed in the jawbone and a porcelain crown that aligns with your teeth is placed on the screw.
Process Of Dental Implant Treatment
In the one-step procedure, a temporary cap is attached after the implant is placed. In the two-stage procedure, after the dental implant is placed, it is covered with the gum and left to heal. In both cases, a temporary bridge is placed and a healing period of 3 months for the lower jaw and six months for the upper jaw is expected. Sometimes newly made teeth can be placed on dental implants immediately. After 2 to 6 months you visit our clinic again for the implanting crown fittings. These procedures may differ from patient to patient. For specific information about your condition, a detailed examination is required.
Why should I choose the Konuk Clinic?
We assist you from the airport to the hotel, with our disinfected vehicles for their safety and comfort. We have an interpreter team with us so that our patients do not experience any communication problems.
We will assist you with your in-person consultation with our doctors at Konuk Clinic. During the consultation, our medical team will conduct the necessary medical analysis to determine whether you are suitable for the operation.
After the completion of your surgery process, you are ready to leave the Konuk Clinic. We will assist you to your arranged 5-star hotel to rest after the operation.
According to your doctor's recommendation, our team will assist you to the Konuk Clinic for your doctor to check up on you and your results. Then we will assist you to the airport with your new look!