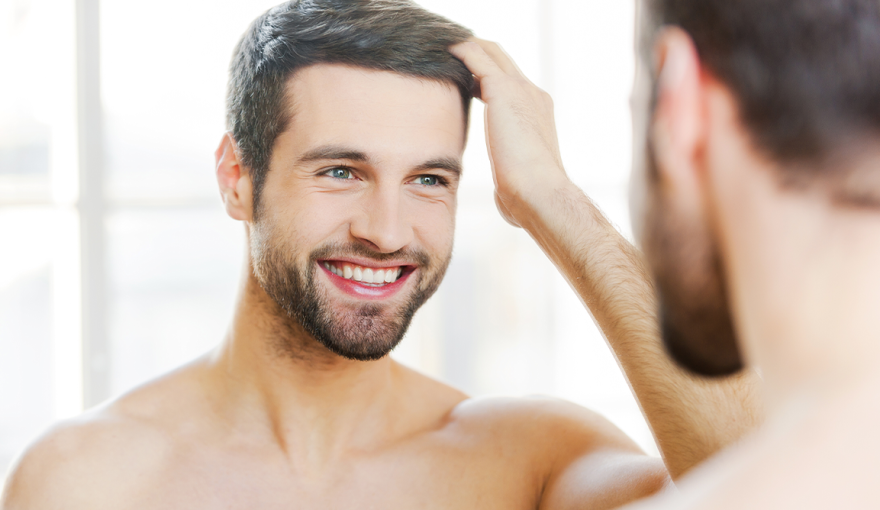 In FUE, a surgeon manually cuts channels in your scalp before implanting hair follicles. During DHI, they use a specialized pen-shaped tool that can do both at the same time.
Let's break down everything you need to know about DHI surgery. We'll also compare it to FUT and FUE to help you decide which may be best for you.
How direct hair implantation works?
DHI is a modified version of FUE hair implantation and follows a similar procedure. Your surgeon will remove hair follicles from a part of your scalp, usually the back of your head, and implant them into balding areas. These hair follicles will eventually grow new hairs.
Here's what you can generally expect during the procedure:
Your surgeon will shave your head and apply local anesthesia to numb it.
The surgeon will extract hair follicles from the back of your head using a tool with a fine tip.
The hair follicles will be loaded into a pen-shaped tool and implanted into the balding part of your scalp.
The surgeon will apply an antibiotic cream and apply a bandage to all sites.
DHI surgeries generally take about 8 hours to complete, but the exact time can vary depending on the number of hair follicles being transplanted. It can take 12 to 18 months to see the full results of the surgery.
Why Choose Turkey For Hair Transplant?
Hair transplantation technology has advanced a lot in recent years. Techniques such as FUE and DHI provide way better results than previously used operation techniques. This advancement has created a great demand for hair transplants.
Previously, Turkey was preferred because of its low costs. We are still very cheap compared to Europe and the United States but what separates us from other low-cost countries like Mexico and Thailand is our experience and talented doctors. Around 2 million tourists are choosing Turkey every year for their medical care. Over time, our skilled surgeons gain a great deal of experience after thousands of operations.
We take care of our patients with care and professionalism and every single one of them leaves Turkey satisfied. Affordability and excellence together make Turkey the Global leader in hair transplantation.
Are you curious about the amazing results of DHI hair transplant before and after?
Look no further! DHI hair transplant is a cutting-edge technique for hair restoration that provides absolutely natural and impressive results for both men and women. The procedure takes between five to nine months to show its full effects, but the wait is definitely worth it. During the first few months after the surgery, some of the transplanted hair may fall off, but don't worry, it's completely normal. The hair will then grow back normally and naturally, giving you a head full of thick, healthy hair. To ensure the best results, it is crucial to follow post-surgery instructions and take proper care of your newly transplanted hair. At our clinic, we understand the importance of delivering exceptional results to our clients. We have a team of experts who specialize in DHI hair transplants and have years of experience in this field. We are dedicated to providing our patients with natural-looking and long-lasting results that will boost their confidence and transform their lives. Don't just take our word for it - check out our before and after hair transplant photos on our website. These photos showcase the remarkable transformations that our patients have experienced after undergoing a DHI hair transplant. So, if you're tired of dealing with hair loss and want to regain a full head of hair, DHI hair transplant is the perfect solution for you. With our cutting-edge techniques and expert surgeons, we can help you achieve the results you desire. Don't let hair loss hold you back any longer - book a consultation at our clinic today and take the first step towards a confident, new you.
Why should I choose the Konuk Clinic?
We assist you from the airport to the hotel, with our disinfected vehicles for their safety and comfort. We have an interpreter team with us so that our patients do not experience any communication problems.
We will assist you with your in-person consultation with our doctors at Konuk Clinic. During the consultation, our medical team will conduct the necessary medical analysis to determine whether you are suitable for the operation.
After the completion of your surgery process, you are ready to leave the Konuk Clinic. We will assist you to your arranged 5-star hotel to rest after the operation.
According to your doctor's recommendation, our team will assist you to the Konuk Clinic for your doctor to check up on you and your results. Then we will assist you to the airport with your new look!